Welcome to The Edward King House
---
For over 45 years The Edward King House Senior Center has served a vital role in the community by meeting the ever-changing needs of the senior population.  Through our diverse variety of classes, programming, performances and club activities we offer seniors age fifty and older the ability to remain active.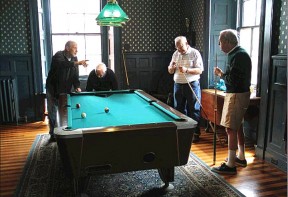 As a frequent destination for Newport County seniors, the King House serves as a hub for personal enrichment insuring access to a well rounded quality of life and a reliable resource for individual and family referrals regarding senior issues. The King House sees an average of four hundred visitors on a weekly basis (16,000-18,000 yearly) and fields a large volume of calls daily seeking support services. Based upon the growing population of seniors, we can expect this number to increase dramatically over the next several years.
Our Mission
The Newport Senior Center at the Edward King House provides an active and enriching environment in a warm, welcoming, attractive setting for residents of Newport County fifty years of age or older. Membership includes exercise classes, health and wellness workshops, various educational programs and social events. The center provides supportive services attuned to the diverse needs of today's senior adult.
The Vision
Our vision lies squarely on providing quality, informative and supportive programming and services for the senior population in a safe, welcoming environment.
Our Home
One of the best kept secrets in Newport, the Edward King house was designed by noted architect Richard Upjohn in 1845 for wealthy China trade merchant Edward King. The Edward King House is one of the finest examples of Italianate Villa style of architecture in America. At Christmas time, 1912, the villa was donated to the City of Newport by the King Family for use by the citizens of Newport. It served as the public library until 1968 when it became the home of Newport's senior citizens.
Volunteers
Volunteers of any age are always welcome at the Edward King House.  The King's Crusaders Volunteer Program was developed to find opportunities for members of our community to come together to provide service both here on site and in support of our community neighbors.  To become a part of the team, download the King's Crusader Volunteer Application Form and submit it as soon as you can.
Community Partners
The vision of the Edward King House is to mobilize communities to reimagine aging. We could not make this possible without our partners. Together, we deliver innovative and impactful supports that enhance the lives of older adults and the family, friends and neighbors that care for them. Click below to find more information on our community partners: