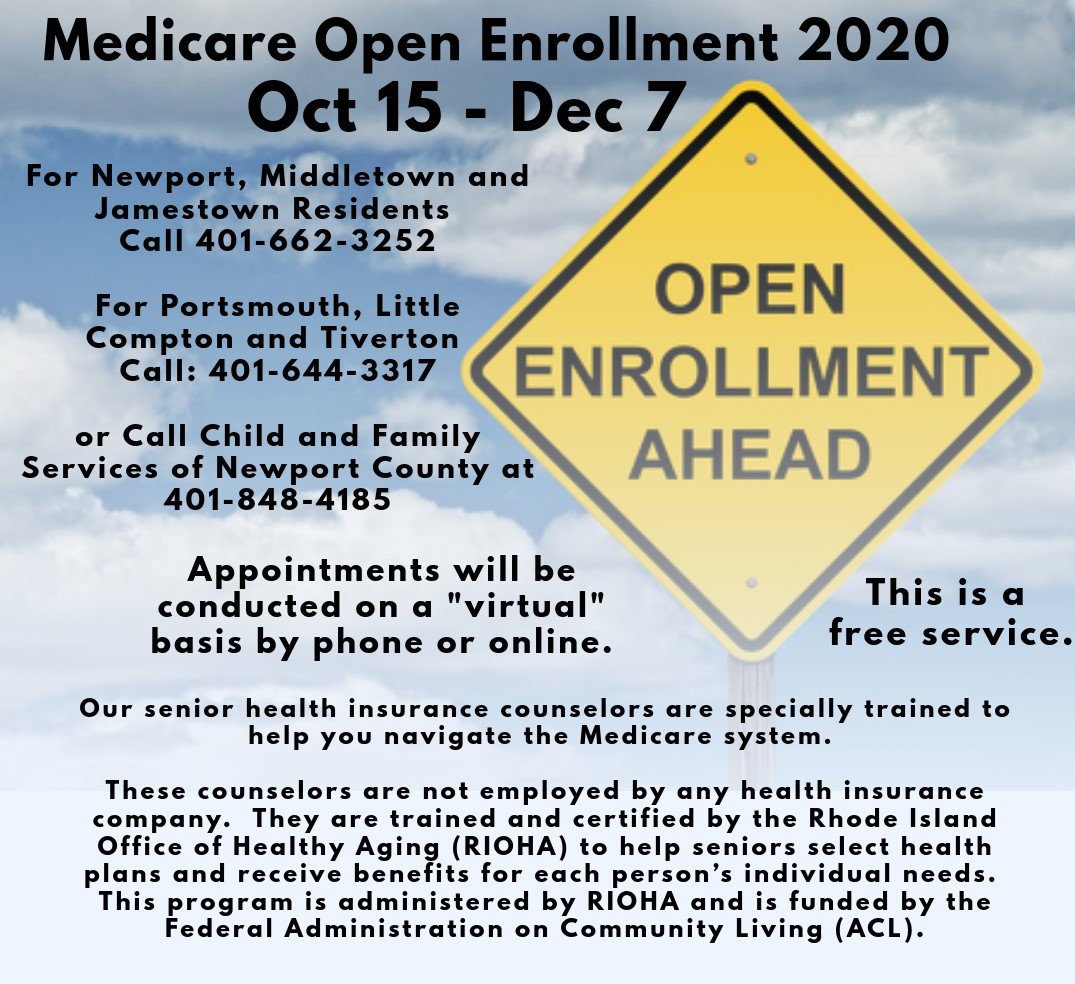 Senior citizens have a lot to contend with, from increasing health concerns to worrying about financial needs during their retirement and now during a pandemic. Navigating through the Medicare system doesn't make it any easier.
Medicare Open Enrollment will run from October 15th to December 7th this year and help is on the way for seniors needing guidance and assistance with the important task of choosing the right plan. In a response to ensure safety during the COVID-19 crisis, the Newport County SHIP (Senior Health Insurance Program) counselors will be readily available in a remote fashion this year. The SHIP program is a free counseling service that offers objective information on Medicare and Medicare-related services, including advocacy, signing up for Medicare and reviewing or enrolling in prescription drug plans offered by skilled and highly trained counselors. These counselors are not employed by any health insurance company. They are trained and certified by the Rhode Island Office of Healthy Aging.
This free service is administered by Rhode Island Office of Healthy Aging and funded by the Federal Administration on Community Living.
Seniors from
Newport, Middletown and Jamestown

are asked to call 401-622-3252 to schedule a remote appointment. Senior from

Portsmouth, Little Compton and Tiverton

are asked to call

401-644-3317

. In addition, seniors can call

Child and Family Services

at

401-848-4185

. All appointments will be conducted by phone or online.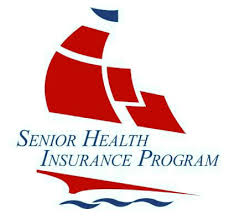 SHIP counseling is now just a phone call away.
Call 401-662-3252 to speak with a certified SHIP Counselor.
The Rhode Island Senior Health Insurance Program (SHIP) is part of a national partnership to help consumers make informed health care choices. SHIP volunteers provide one-to-one counseling to seniors, adults with disabilities, families, and caregivers. The program is designed to help seniors and adults with disabilities understand health care cost and coverage. SHIP counselors can discuss Medicare, Medicare Part D, supplemental insurance, Medicare Advantage plans, and other health insurance options. In the next year, there will be changes in Medicare due to the full implementation of the Affordable Care Act and to Medicaid as a result of the implementation of the Integrated Care Initiative for persons enrolled in both Medicare and Medicaid. SHIP counselors will be able to assist beneficiaries in making the most appropriate choice for their health care needs.
MEDICARE LOCKER OF DOCUMENTS AND RESOURCES
Enrolling in Medicare Online for Individuals Previously Covered Under an Employer Group Health Plan
This is an option for people that are switching from health coverage through an Employer to Medicare. An example is someone age 67, who has been covered under their spouse's current employer insurance, and they want to drop this coverage and enroll in Medicare. Once the beneficiary completes the online enrollment forms, the forms will automatically be transmitted to the Social Security Field Office of jurisdiction. This document explains how to enroll online.
Consumer Fact Sheet – How to enroll in Medicare during the coronavirus public health emergency
In normal times, you could walk into a Social Security Office and enroll in Medicare in person. However, during the coronavirus emergency, all Social Security Offices are closed. This Fact Sheet explains how to enroll in Medicare during the coronavirus emergency –
by calling Social Security,
by going online or by other methods.
A Quick Look at Medicare

This 3-page brochure has some very useful information, and is a great place for you to start educating yourself on the ins and outs of Medicare. Included in the brochure is a brief description of all the different parts of Medicare and a nice illustration of the two main ways for you to get your Medicare coverage – Original Medicare or a Medicare Advantage Plan.
What is Medicare and Medicaid

This brochure includes not only information about Medicare, but also information about Medicaid. Medicare is a federal program that helps pay medical costs for people over 65, certain people under 65 with disabilities, and people with End Stage Renal Disease. Medicaid is a joint federal and state program that helps pay medical costs for people with limited incomes and/or resources and meet other requirements. These are two different programs and a person can be eligible for one or both.
How to Create a MyMedicare Account

This document explains in detail how to create a MyMedicare account. You can create an account as soon as you have your Medicare card. There are many benefits to creating your own account including creating, saving, and modifying your drug list, and comparing benefits for all the drug plans available in your area (there are currently 25 plans in RI). You can find information on your medical claims, your coverage, and what you pay for your Part B premium. You can also print a new copy of your Medicare card if you lose it. Once you create an account, remember to keep your Username and Password in a secure place and don't carry that information around with you.
The 2020 Medicare & You Handbook

This is the complete 2020 edition of the Medicare & You Handbook that is published by the Centers for Medicare & Medicaid Services (CMS). It is an extremely useful reference book that explains everything you need to know about signing up for Medicare, what types of additional insurance you can buy, what services are covered under Medicare, and much more. Every year this book is updated so this 2020 edition contains the most recent and accurate information.
The 2020 Medicare & You Handbook Summary of Supplement Plan Coverage

This is a one page excerpt from the 2020 Medicare & You Handbook (page 70). It summarizes the standardized coverage that supplement plans provide. Supplement plans are also called Medigap plans. Every supplement plan, no matter what insurance company sells the plan, have the same coverage and must follow federal and state laws designed to protect Medicare recipients. This means that a Plan N Supplement plan from insurance company #1 has the same coverage as a Plan N Supplement Plan from insurance company #2. This summary shows what percentage of the benefit that each supplement plan covers. This one page excerpt is very useful to quickly see the differences between Supplement Plan Coverage.
Cost Sharing 2020 This document shares important information regarding the costs related to Medicare coverage. For example, it explains how much it costs a beneficiary for Medicare Part B and Medicare Part D based on your income. It details your costs if you don't purchase additional insurance and only have Original Medicare – for example, what will your deductibles and copays be?
Medicare Advantage and Part D Enrollment Periods

Part C Medicare Advantage Plans and Part D Drug Plans have limited enrollment times. This detailed publication explains when you can enroll in these plans. For example, you can enroll when you first become eligible for Medicare. You can also make changes to your plan(s) and enroll in a new plan during yearly enrollment periods. This publication also discusses the penalty for Part D late enrollment.
SCAM ALERT!
After months of stay-at-home orders, RI is starting to open up again. An important part of opening safely is by doing contact tracing. Contact tracers, who are contracted by the RI Health Department, try to track down anyone who may have been exposed to COVID-19. But some scammers are pretending to be contact tracers so that they can try to steal your identity, your money, or both! Read this article to learn some ways to tell the difference between a real contact tracer and a scammer!