Auditions for Spring Production
From

4:00 pm

to 6:00 pm
---
Register
2020-02-15 16:00
2020-02-15 18:00
America/New_York
Auditions for Spring Production
PRIVATE LIVES by Noel Coward SYNOPSIS: Passion, laughter, romance, anger, and love set the stage for a battle of the sexes as divorced couple, Amanda and Elyot, find themselves unwittingly thrown together in Coward's classic comedy of manners. Unknowingly booking adjoining rooms while on honeymoon with their respective spouses, Victor and Sybil, Amanda and Elyot are forced to face their true feelings for each other. Realizing they have made a pair of mistaken marriages; the divorcees attempt to escape their mismatched partners. With haste, and under the cover of darkness, they flee their honeymoon hotel and unsuspecting spouses in search of privacy at Amanda's secluded Paris flat. Despite their passion for each other, Amanda and Elyot begin to bicker violently, just as they had done during their marriage. It is clear that the couple cannot live with each other, but cannot live without each other either. When they are discovered several days later by their jilted spouses, all four lovers must finally acknowledge just who is really suited to whom. Fast-paced, witty, and passionate, Noel Coward's comedy is a delightful romp. STYLE: As a "comedy of manners," Private Lives deals with the conventions and social rituals by which a person presents their "public" self to the world—and with the "private" passions and motivations that lie beneath the veneer of etiquette and respectability. The title comes from a speech Amanda makes early in the first Act. "I think very few people are completely normal, deep down in their private lives," she muses. "It all depends on a combination of circumstances;" given the right conditions, "there's no knowing what one mightn't do." CHARACTERS: Elyot Chase Male, 30's – 40's. Elyot Chase, a handsome man, both clever and cynical, if he has a philosophy, it lies in his refusal to every be serious, in defiance of "all the futile moralists who try to make life unbearable." Five years earlier, he had divorced Amanda, to whom he had been married for three tumultuous years, and then traveled around the world. When he sees Amanda again, he realizes that she is his true love. In a good mood, he is flippant and nonchalant, but he has a temper and is quick to flare when he and Amanda start to argue. Amanda Prynne Female, 30's – 40's. Amanda Prynne, Elyot's first wife, newly married to Victor Prynne. Though she is very fond of her new husband Victor, she is not quite as passionate as he is and when she reunites with Elyot their tempestuous passions reignite – both in love and arguments. She is vivacious with a fiery temper, and a tendency toward impulsive behavior. She is not only beautiful but also spirited, independent, and unconventional—a fit partner for Elyot. Sibyl Chase Female, 20's. Sibyl Chase, Elyot's blond, attractive, twenty-something (and a first-time) bride, she completely adores him. Seemingly conventional and innocent, she is Amanda's antithesis and though she suggests the dim view of the "nice" English girl – there is much more to her than that. She is very curious, slightly jealous, and prone to wailing and hysterical outbursts if things do not go her way. It becomes […]
35 King Street, Newport RI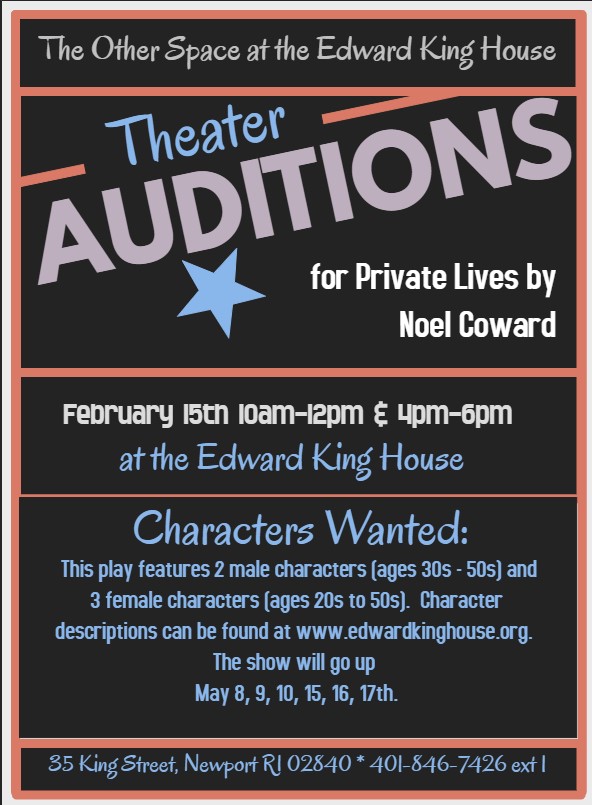 PRIVATE LIVES by Noel Coward
SYNOPSIS: Passion, laughter, romance, anger, and love set the stage for a battle of the sexes as divorced couple, Amanda and Elyot, find themselves unwittingly thrown together in Coward's classic comedy of manners. Unknowingly booking adjoining rooms while on honeymoon with their respective spouses, Victor and Sybil, Amanda and Elyot are forced to face their true feelings for each other. Realizing they have made a pair of mistaken marriages; the divorcees attempt to escape their mismatched partners. With haste, and under the cover of darkness, they flee their honeymoon hotel and unsuspecting spouses in search of privacy at Amanda's secluded Paris flat. Despite their passion for each other, Amanda and Elyot begin to bicker violently, just as they had done during their marriage. It is clear that the couple cannot live with each other, but cannot live without each other either. When they are discovered several days later by their jilted spouses, all four lovers must finally acknowledge just who is really suited to whom. Fast-paced, witty, and passionate, Noel Coward's comedy is a delightful romp.
STYLE: As a "comedy of manners," Private Lives deals with the conventions and social rituals by which a person presents their "public" self to the world—and with the "private" passions and motivations that lie beneath the veneer of etiquette and respectability. The title comes from a speech Amanda makes early in the first Act. "I think very few people are completely normal, deep down in their private lives," she muses. "It all depends on a combination of circumstances;" given the right conditions, "there's no knowing what one mightn't do."
CHARACTERS:
Elyot Chase Male, 30's – 40's. Elyot Chase, a handsome man, both clever and cynical, if he has a philosophy, it lies in his refusal to every be serious, in defiance of "all the futile moralists who try to make life unbearable." Five years earlier, he had divorced Amanda, to whom he had been married for three tumultuous years, and then traveled around the world. When he sees Amanda again, he realizes that she is his true love. In a good mood, he is flippant and nonchalant, but he has a temper and is quick to flare when he and Amanda start to argue.
Amanda Prynne Female, 30's – 40's. Amanda Prynne, Elyot's first wife, newly married to Victor Prynne. Though she is very fond of her new husband Victor, she is not quite as passionate as he is and when she reunites with Elyot their tempestuous passions reignite – both in love and arguments. She is vivacious with a fiery temper, and a tendency toward impulsive behavior. She is not only beautiful but also spirited, independent, and unconventional—a fit partner for Elyot.
Sibyl Chase Female, 20's. Sibyl Chase, Elyot's blond, attractive, twenty-something (and a first-time) bride, she completely adores him. Seemingly conventional and innocent, she is Amanda's antithesis and though she suggests the dim view of the "nice" English girl – there is much more to her than that. She is very curious, slightly jealous, and prone to wailing and hysterical outbursts if things do not go her way. It becomes clear her temperament is more suited to Victor, though she implies to Elyot that she will tailor life to suit his whims, the electricity that flies is between her and Victor.
Victor Prynne Male, 30's – 50's. Victor Prynne, a handsome man a few years older than Elyot. He is pleased to describe himself as 'normal'. Like Sibyl, he is shocked by the elopement of Elyot and Amanda and completely adores his wife though they are ultimately mismatched. Victor is a kind man, and wants to make over someone's life, taking it upon himself to do so for his new wife. However, it is Sibyl who is his true soul mate, and their fierce quarreling at the end of the play, mirroring the battles between Amanda and Elyot, indicates that the conventional Victor is much more unconventional, with electrifying passions beneath his surface, and he will end up paired with Sibyl.
Louise Female, 20's – 50's. Louise, Amanda's French-speaking maid. A featured role with great opportunity for comedy. She appears in the third act. Her inability to speak English and her incomprehension of the bizarre occurrences in the apartment provide a number of laughs.